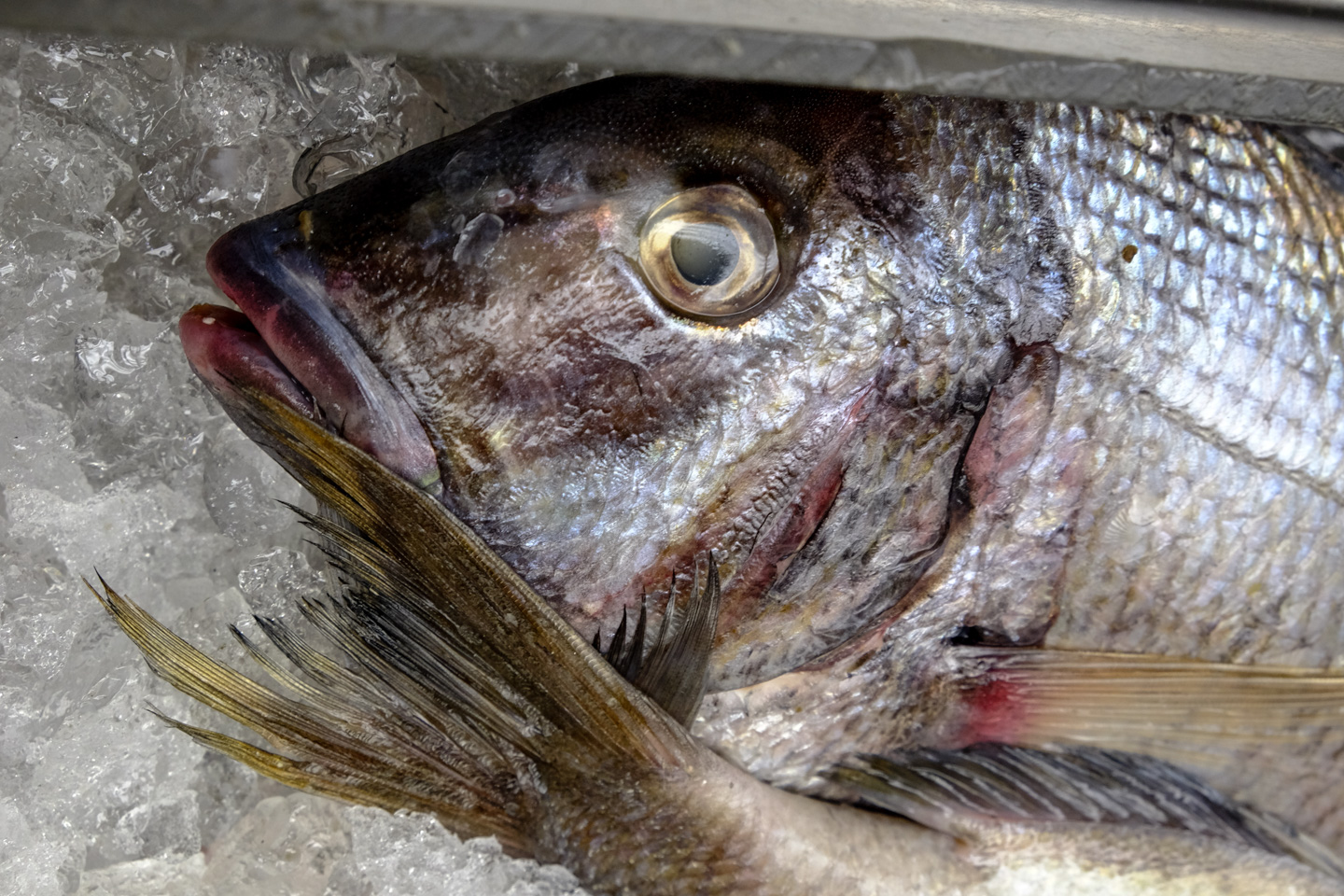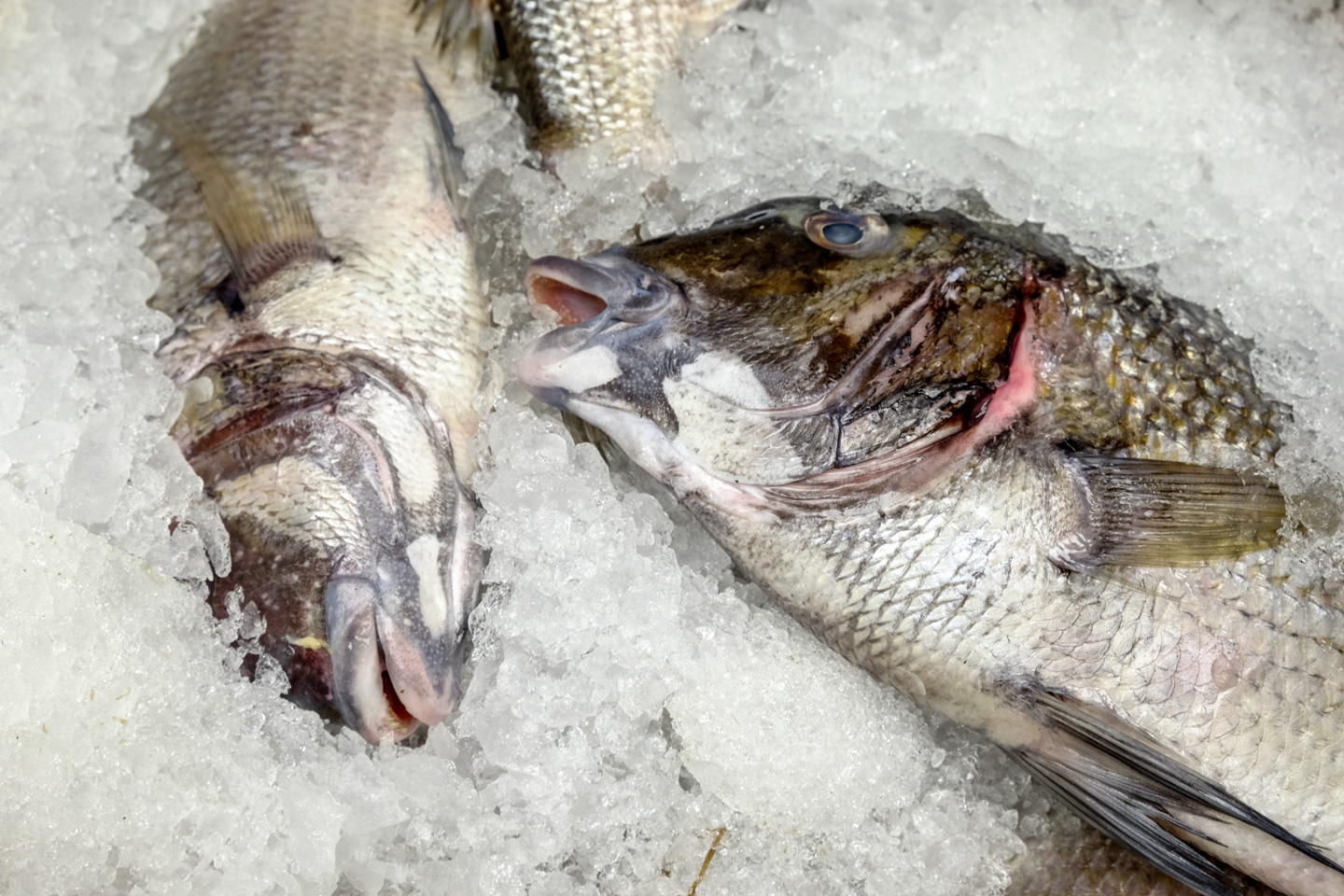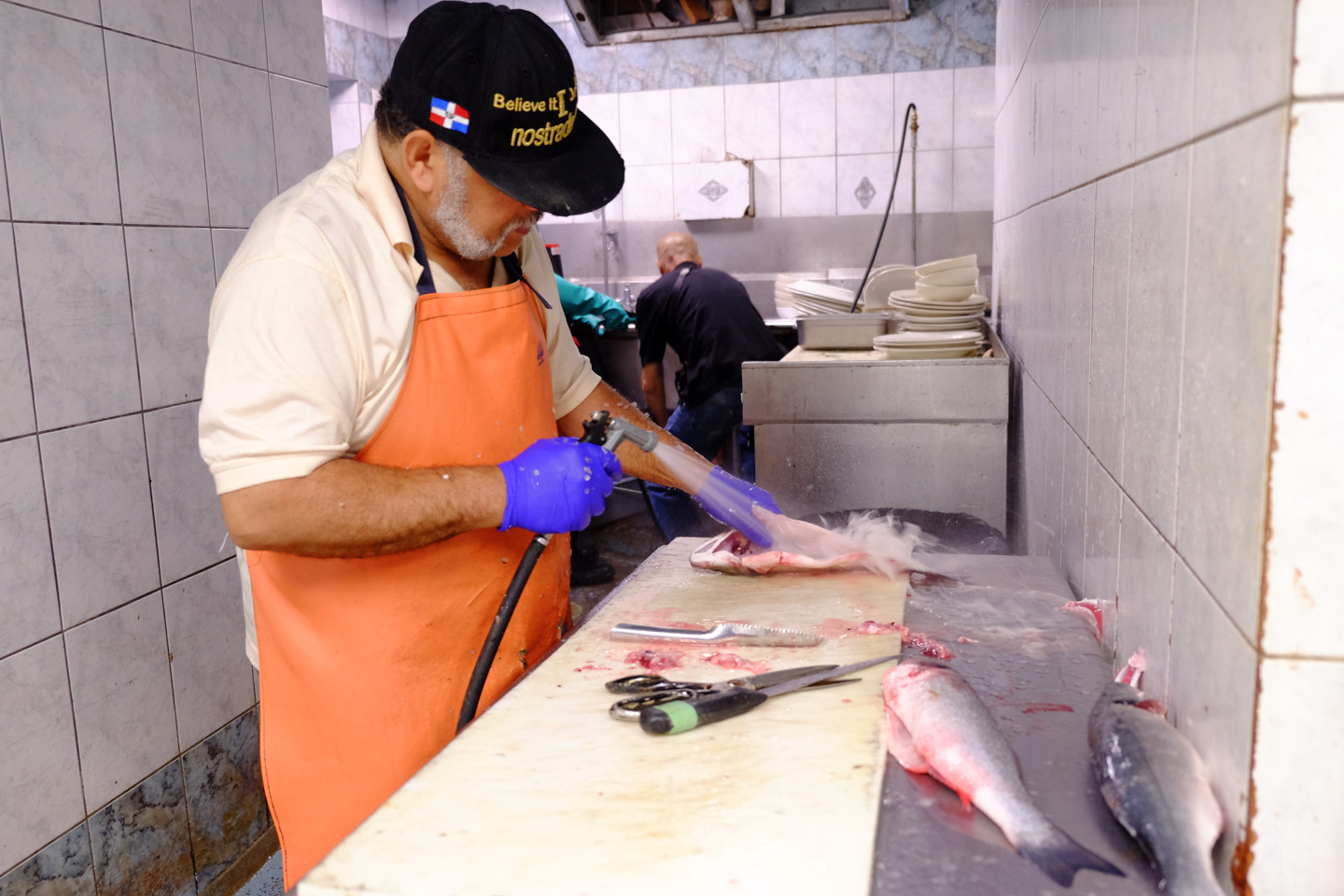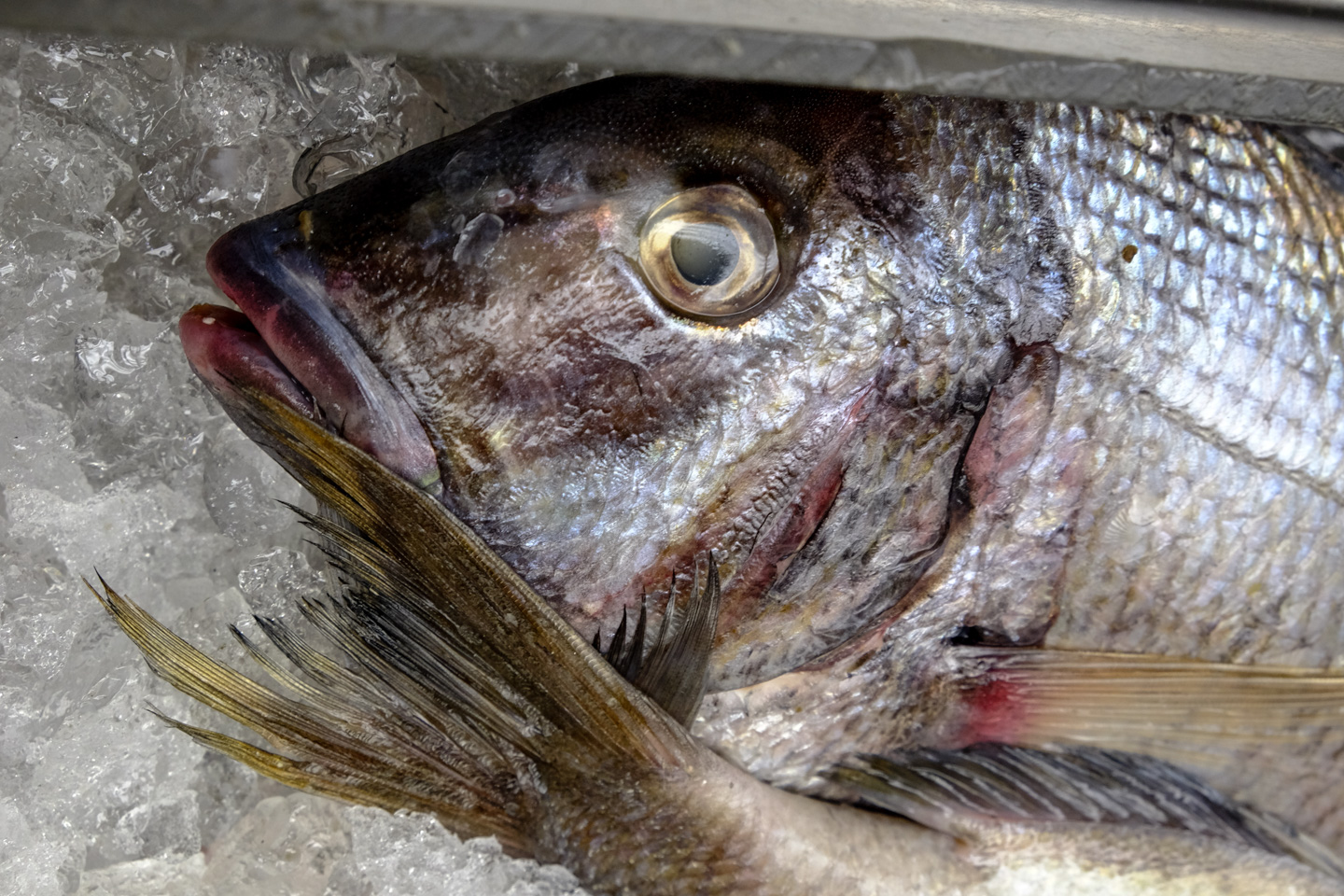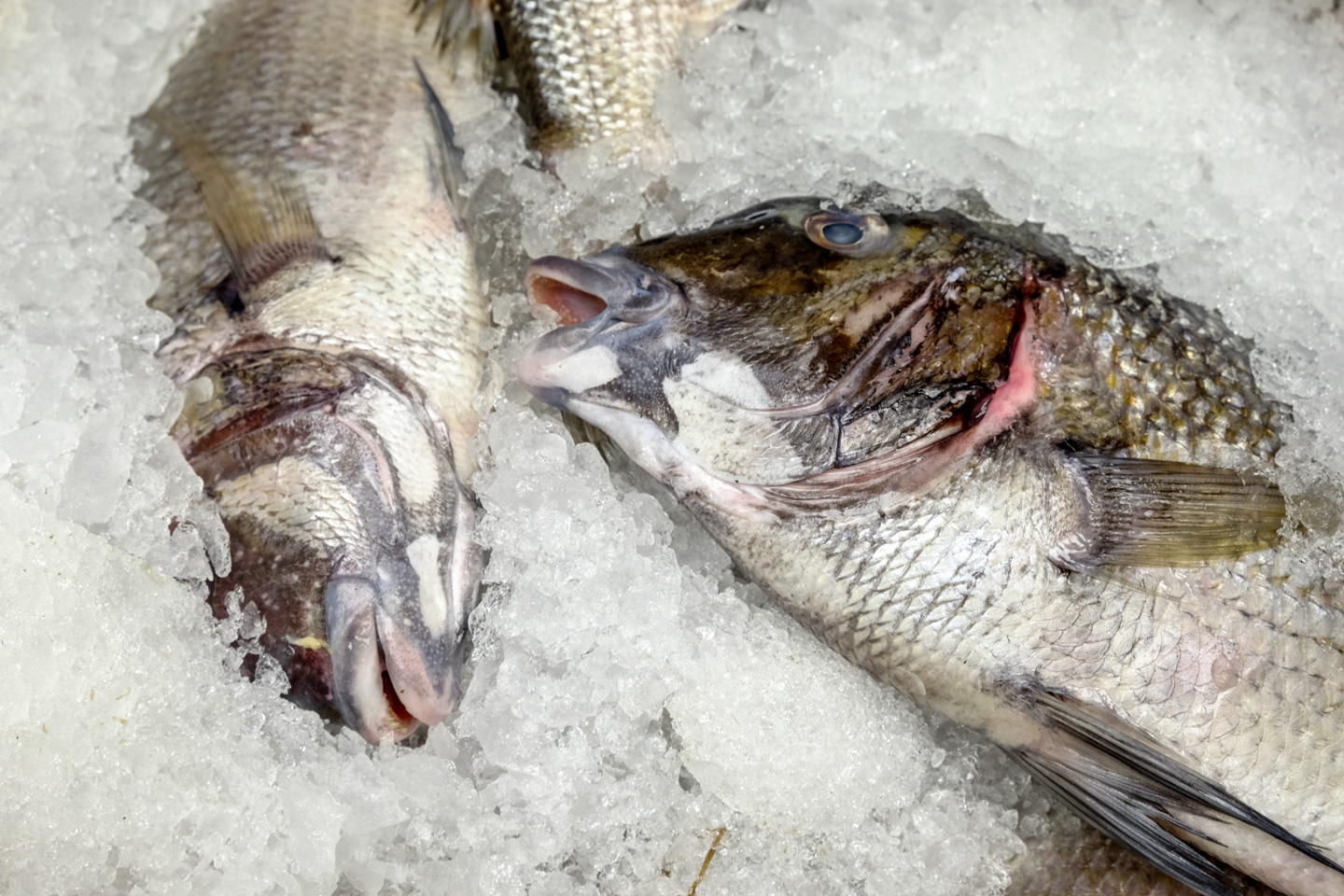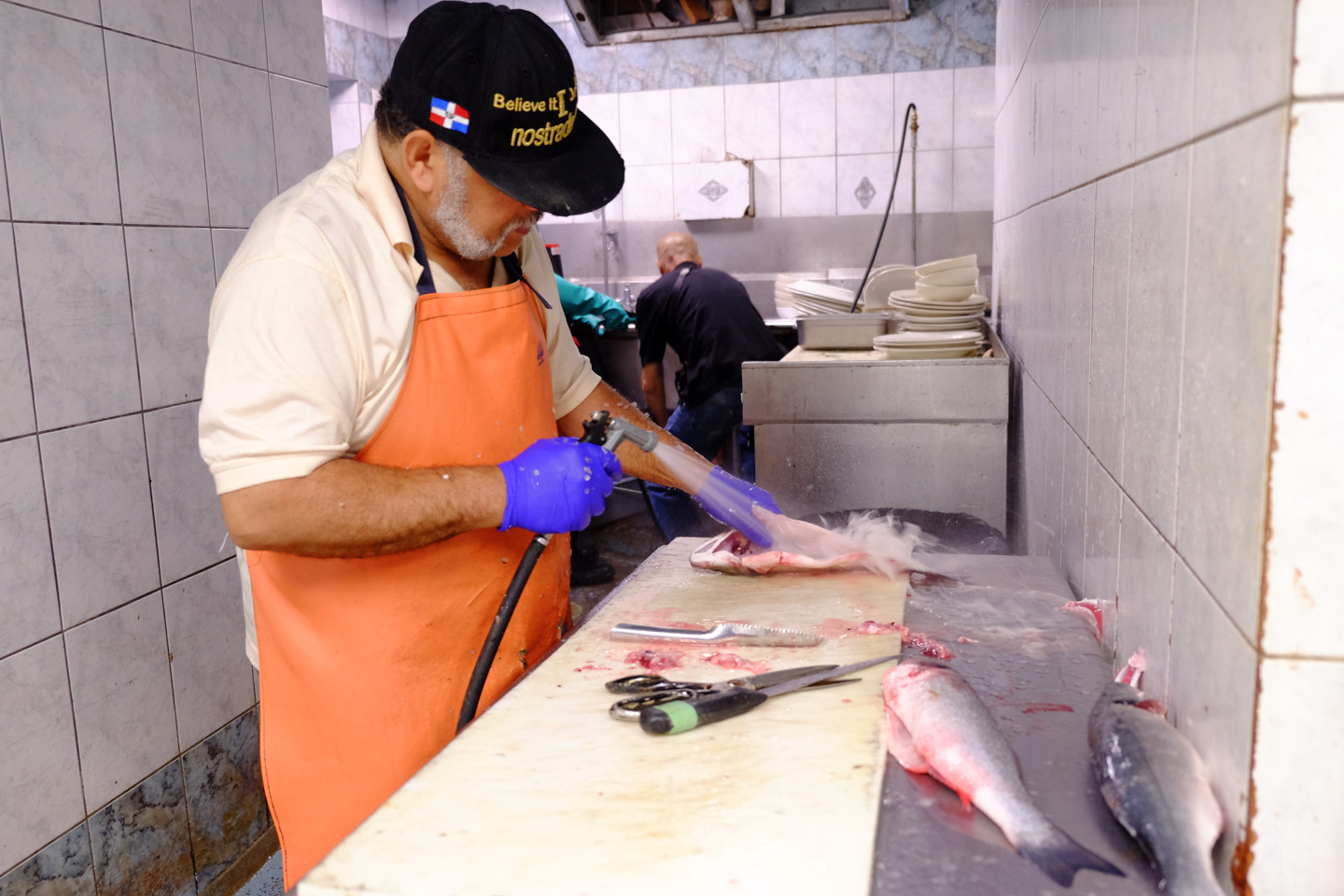 By Sari Kamin
About Astoria Seafood: Astoria Seafood first opened as a wholesale fish company and retail market in 1993. Owner Spyro Christakos expanded the market to include a kitchen in 2012 because he wanted to "give people good seafood at a good price. Seafood at a lower price had a bad rap. You couldn't really enjoy good quality seafood unless you went to an expensive restaurant." At Astoria Seafood, the wholesale operation enables Christakos to source high quality fish while keeping price points low. And it's only natural that Christakos is at the helm of a seafood business—his grandfather was a fisherman in Greece and his father operated a wholesale fish shop in Jackson Heights for 25 years.
Eat New York writer Sari Kamin shares her experience of Astoria Seafood on a summer night.
"Go pick out your fish and then give the lady your name" are the hurried instructions I'm given when I enter Astoria Seafood on a jam-packed Friday night. A crowd has gathered outside the door, eagerly awaiting their names to be called for an available table at this seafood market-cum-restaurant on the border of Long Island City and Astoria, Queens. I spot Elena Faroupos, a petite and feather-haired Greek woman in her mid-50's decorated with cobalt blue eyeliner and a booming voice. In addition to taking orders and delivering food, Elena is also "the lady" collecting names for the ever-expanding waitlist.
I approach Elena with my friendliest smile and inquire how long the wait will be. "Go pick out your fish" she instructs me, uncharmed. My companion, Mike, and I maneuver through the fluorescent-lit dining room outfitted with nautical kitsch. In the back, raw seafood is sprawled out on icy bins. The options are plentiful: Florida red snapper, Mediterranean sea bass, silvery smelts, slippery cuttlefish, jumbo prawns, lobster tails, crab legs, oysters, scallops, and more. Taking our cue from others around us, we grab plastic bags and go to town.
We lug our haul to a cashier where we are asked with each fish: "Grilled, steamed, or fried?" And: "do you want Greek Salad?" Yes, the answer is always yes. And garlic bread, please.
Finally, Elena adds our names to her list and we are sent back outside to wait. We join the hungry crowd, many of whom have cracked open their bottles of wine (Astoria Seafood is BYOB) and are drinking out of the waxy plastic cups the restaurant provides. An hour passes and we have made it halfway through our Sauvignon Blanc. Elena appears sporadically, shouting names off of her hand scrawled list. "Sachie?" she calls out. "S-A-C-H-I-E?" No one responds, and Elena scuttles back into the restaurant where I watch her break into an impromptu Greek dance with a table of four muscly men in tight black t-shirts. There is a bottle of Jameson on the table and they toss back shots from plastic cups. "Sachie?" Elena bellows again into the crowd. Still no response. "I'm doing everything right!" she says, unable to contain her frustration. Elena stomps back into the restaurant and the muscly men greet her with an approving "Opa!"
Another hour passes and Mike and I are seated next to a couple well into a bottle of Cabernet and a colossal pile of fried calamari. Our wine is now warm but we are giddy with the prospect of finally eating. Our Greek salad appears with plastic forks and knives and a crusty white loaf of garlic bread. The smelts we bagged hours earlier reappear, now breaded and fried, along with grilled sepia in a pool of lemony oil. There are meaty jumbo prawns studded with garlic and crab legs charred from the grill. A whole branzino arrives and the couple next to us exchange a glance, silently noting the excessive amount of food we ordered. Each dish is better the next and we use the bread to shamelessly sop up the briny juices that mingle with the lemon and the oil on each plate.
Our plastic cups have long been empty, and our plates are stained with the carnage of pink shells and tails. On our way out we pass Elena, who has eased into the post-rush phase of Friday night service where everyone is seated and happy and full of seafood and booze. "Good night, hon," she sighs. I give her a sleepy smile, content to have finally seen her soften, and head into the warm Astoria night air.
Astoria Seafood
3710 33rd St
Long Island City, NY 11101
Photos: Chia Messina